The Academic Seal of Bayard Public Schools
​​​​​​​ ​​​​​​​ ​​​​​​​ ​​​​​​​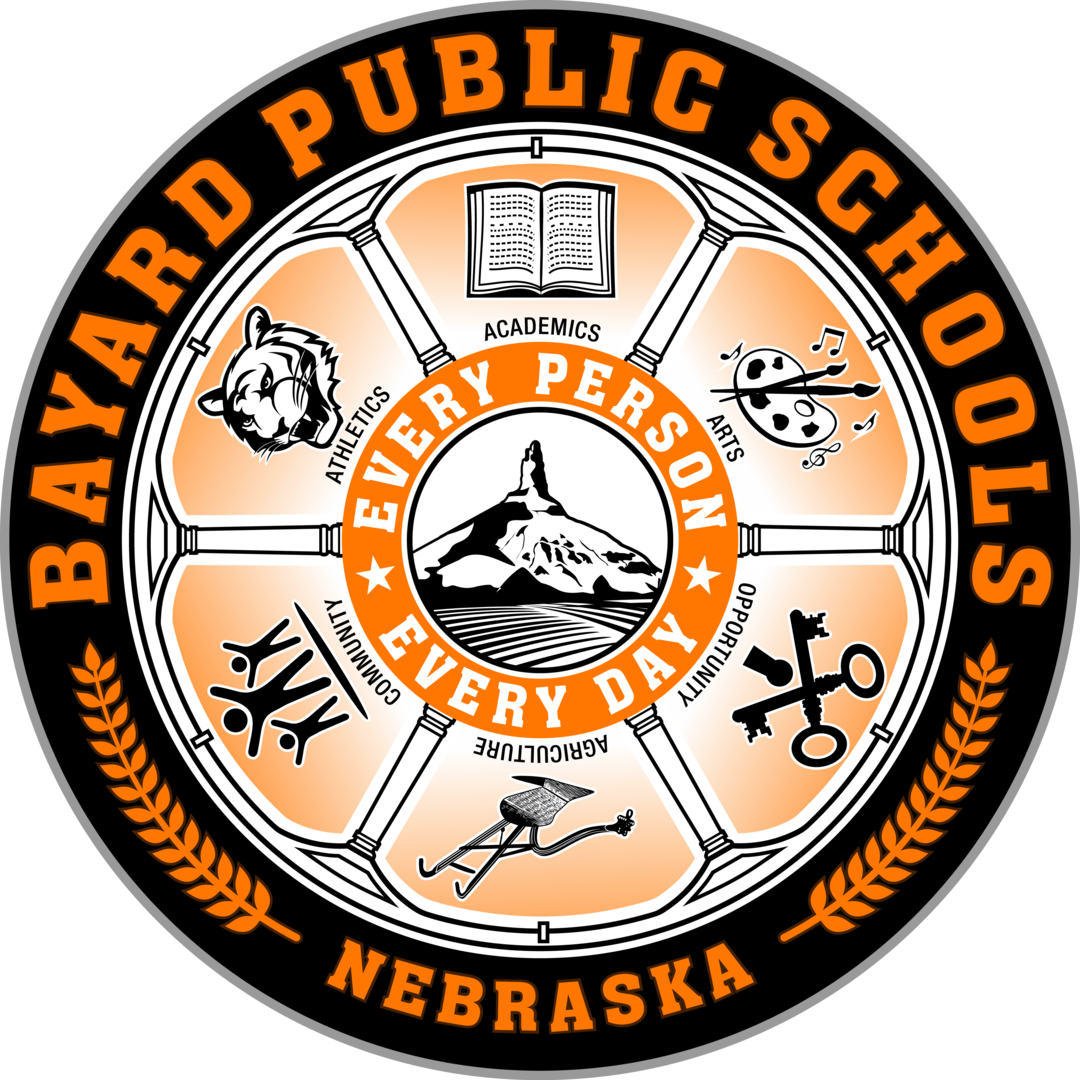 The Academic Seal of Bayard Public Schools


At the center of the seal is an image of Chimney Rock. This historic landmark was used by the first Americans and, later, by the pioneers as a guide on their epic journeys. Chimney Rock continues to inspire countless travelers and residents alike. Chimney Rock enhances our sense of place and instills pride, as the landmark prominently stands above the fertile North Platte River Valley.

The phrase, Every Person, Every Day, which is derived from the Core Covenants of Bayard Public Schools, reminds us of the dignity and value of every member of our school community. Every person matters for the future of our school and community, and every day is an opportunity to make a contribution to our greater well-being.

Surrounding the central ring are academic pillars and six icons describing our enduring strengths, values, and aspirations.

Academics: At the top of the seal is a Book of Knowledge, symbolizing academics as our highest institutional value and first priority.

Athletics and Arts: Flanking the Book of Knowledge on the left is the school's Tiger mascot, representing athletics and the fiercely competitive nature of our student-athletes. Flanking the Book of Knowledge on the right is an artists' palette and musical notes, representing the arts and the creative talents of our student performers. Athletics and arts support and enhance the academic and personal development of our students.

Community: The efforts of the school are supported by the entire community. Regular interactions between the faculty, staff, students, parents, and patrons are essential to a vibrant community and a strong school.

Opportunity: Two keys and a lock represent the importance of opportunity. Education provides a key to unlocking many opportunities for our students. Equally important, providing our students with many opportunities is key to their development.

Agriculture: Our community and economy are supported by an agricultural base. The plow symbolizes agriculture and the strong agrarian work ethic of our community and our students.