Working...

Bayard takes 5 to Omaha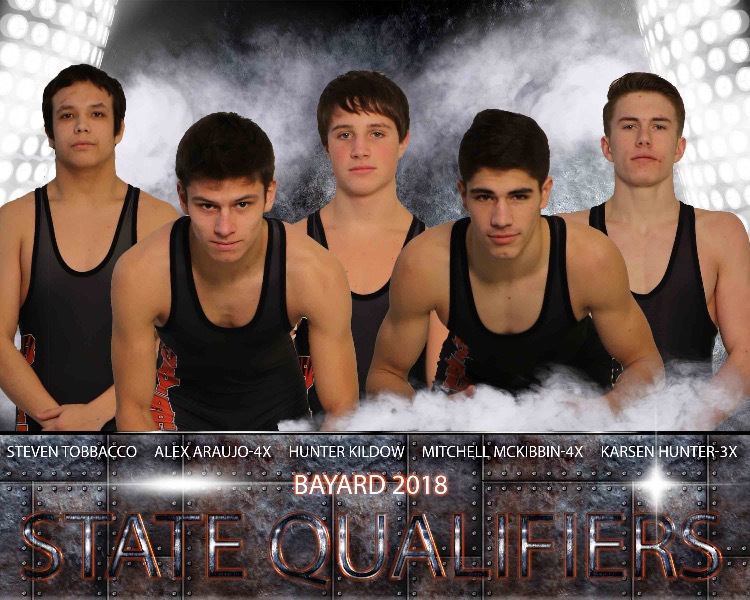 Bayard takes five to Omaha
By Grace Burry
Last weekend, February 9th and 10th, the Bayard wrestlers traveled to North Platte to compete at districts. The meet went well for a lot of our wrestlers. Five wrestlers including Mitch Mckibbin, Alex Araujo, Karsen Hunter, Steven Tobacco, and Hunter Kildow made it to state. McKibbin at 132 and Hunter at 160 earned District Champion for the day. While Araujo was runner-up for 126 weight class. Tobacco at 170 and Kildow at 120 got fourth place. Konner Jones and Daemon Avilez missed going by a match in the heartbreak round. They were both winning at the beginning and unfortunately lost. Christian Leonard had to forfeit due to a medical issue to his leg. It was a big day for our two seniors, Mitch McKibbin and Alex Araujo, as they grabbed their 150 career win. McKibbin said, "The feeling is bittersweet. It's sad because it is my last district meet, but it is nice to know it is the last time I'll have to weigh in at districts." He will miss wrestling with everyone while he attends Black Hills State and plays football. Having a parent as a coach can also be bittersweet. "My dad does a really good job at motivating me to work hard and be focused and ready," McKibbin said. The NSAA state wrestling meet will begin on Thursday as the championship matches will be held on Saturday. Congrats to the whole team with their great season.