Working...

High School Students Honored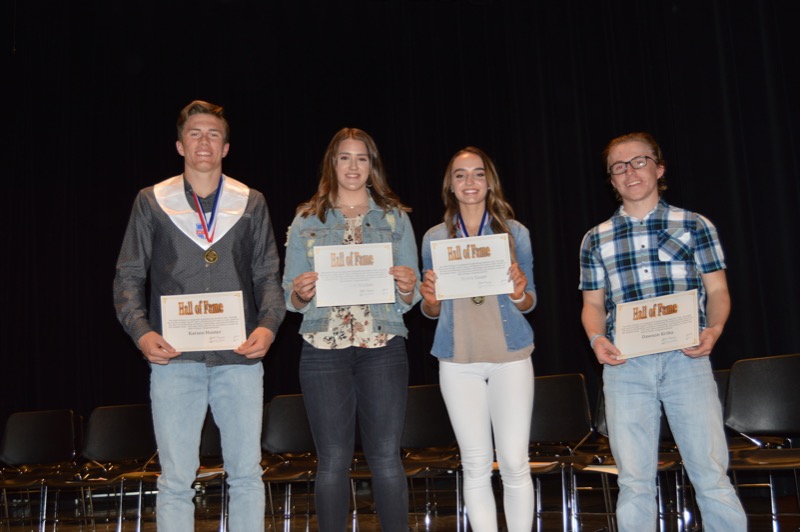 On Wednesday, May 1st the high school awards took place in the auditorium. The hall of fame award winners consisted of Karsen Hunter, Lizabeth Marker, Sierra Sauer, and Dawson Kriha. The book of knowledge, which is awarded to the junior with the highest gpa, was received by Leah Albro from Kylie Stuart. The honor yoke for senior class president went from Garrett Doremus to Leah Albro. The athletic award was presented to Jessica Whitebear by Lizabeth Marker. The school spirit award was given to Lorren Henkel from Garrett Doremus. The Bayard Booster Club Tiger of the Year was awarded to Sierra Sauer. Albro felt that "a lot of hard work has paid off" after she received her awards. "It's weird to think about (entering last year of high school). When people say that high school goes by in a flash they mean it."
Freshmen through juniors that rank in the top two of their class were also recognized. Laura Albro and Madison Oliverius are sitting at the top for the freshmen. The top sophomores are Megan Cawley and Kodie Harimon. Leah Albro and Ryan Liakos are the top-ranked juniors. The top seniors will not be announced until Saturdays' graduation.
Also recognized where the boy and girl from each grade for their citizenship as voted on by the faculty and staff. The freshmen were Kolton Kriha and Candace Wolfe. Kodie Harimon and Oscar Flores were recognized in the sophomore class. Junior recipients were Traeton Harimon and Kodie Harimon. Karsen Hunter and Sierra Sauer were voted for from the senior class.