Working...

Girls Basketball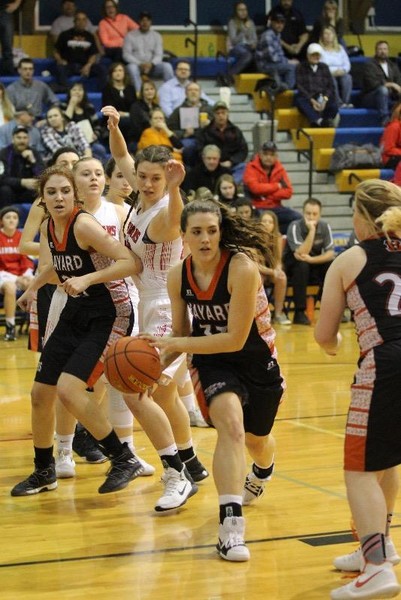 Girls Season Comes to an End
By Kristin Clause
Photo by Nicole Barker
Competing at the Gering High School on February 13th, was the battle of the Tigers and the Longhorns to advance in sub-districts. Fortunately enough, Bayard comes on top of Kimball 44 to 32. A sophomore, Leah Albro says, "I'd rather play defense than offense because I'm pretty quick and more aggressive in that aspect of the game." The top scorer for Bayard were Sierra Sauer, Kylie Stuart, and Jessica Whitebear each having 9 points throughout the game. Leading in three-pointers is a senior, Avery Kildow, having a total of 2 three-pointers. Whitebear having scored 4 two-pointers was the top shooter for two-pointers on Tuesday nights game. At the line, Liz Marker and Stuart each made 3 free-throws for Bayard. Stuart had a total of 8 rebounds, 2 offensive and 6 defensive, being Bayard's top rebounder. Shaley Petersen had the most steals for the Tigers with 4 steals. The win over the Longhorns advanced the Tigers to play Bridgeport.
The rival teams Bayard and Bridgeport meet at Gering High School to play in the C-12 sub-districts on February 15th. Bayard fell to Bridgeport with a final score of 62 to 39. The top scorer for Thursday nights game was Marker having 10 total points on the scoreboard for the Tigers. The top three-point shooter was Kildow with 1 three-point shot. Grace Burry, Marker, and Whitebear each had 2 two-point shots having the most two-point shots throughout the game. Representing at the line, Marker had a chance of 6 free-throws and made all 6 free-throws to put some extra points on the board. Bayard's top rebounder was Burry having 3 offensive and 5 defensive having a total of 8 rebounds. Burry, Marker, and Whitebear all had 2 steals each for Bayard on Thursday. The loss against the Bulldogs results in an ending season for the Tigers. Albro states, "I think our team will be pretty good next year. We're going to have some great older leaders but we'll still be a younger team."