Working...

MAC Boys Basketball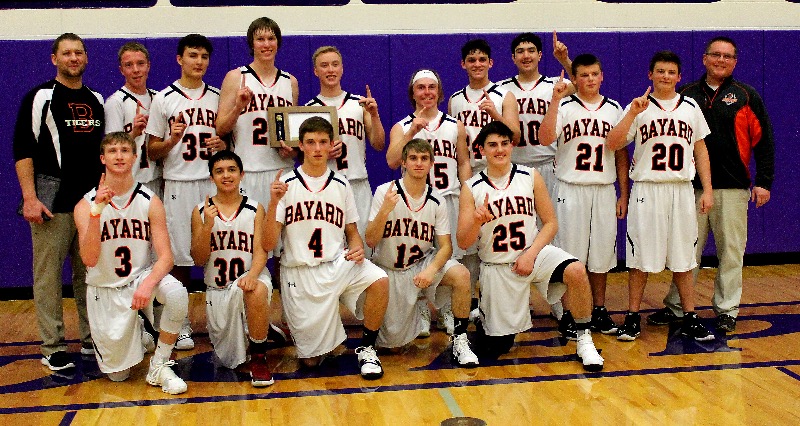 Boys claim MAC tournament title
By Carli Verbeck
Photo by Kim Kildow
The Bayard boys had three games this week during the MAC conference. Monday the 15th, Bayard played Potter-Dix in Bayard. Bayard won 51-23. The leading scorer of the game was Payton Oliverius with 16 points, then Justin Whitebear with 13 points, and followed by Brandon Neiger with 6 points. Whitebear lead the team with 3 steals and Oliverius had 12 rebounds.
Thursday the 18th, Bayard played Creek Valley in Bridgeport. Bayard continued their winning streak winning the game 44-21. Justin Whitebear lead the team with 18 points, then Payton Oliverius with 14 points, and followed by Jack Kildow with 8 points. Oliverius lead the team with 11 rebounds, Daeton Blanco has 5 rebounds, and Jack Kildow closely followed with 4 rebounds.
Saturday the 20th, Bayard played Garden County for the championship game in Bridgeport. Bayard swept the conference, winning the championship game 47-35. Payton Oliverius lead the scoring with 15 points, then Jack Kildow with 12, and followed by Bryce Burry and Dawson Kriha with 6 points. Justin Whitebear had 4 steals, Payton Oliverius had 13 rebounds, and Bryce Burry had 4 assists. Payton Oliverius won player of the MAC conference for the championship game. Daeton Blanco said, "My favorite game was the championship game against Garden County. This was my favorite game because not only it was it the championship game but it was on our goals for such a long time to win it and we finally did."